Conference and Education Management Pty Ltd trading as AST Management
AST Management was formed in 1992 to provide conference and event project management services and solutions to associations, government and organisations that hold conferences, meetings and exhibitions.
AST has worked with a diverse range range of clients and has expanded services to include public relations and social media campaigns, program podcasting and webcasts, research and IT solutions.
We have managed over 500 conferences and raised over $10 million in sponsorship.
We have a reputation as cost effective and diligent in managing client's funds. Our goal is to simplify your role as host.  If you are finding it difficult to establish what the real fees and charges are in your latest event management quote, give us a call. We will prepare an event budget for you that you can understand.
From creating on-line registration and information services for specific conferences, to building innovative programs, we provide a full secretariat and registration solutions to conference and event organisers. Our comprehensive range of conference service packages are specifically designed to support you and your event.
It's all about Transparency
With a major emphasis on quality and financial value, our transparent relationships with all suppliers focuses on adding value and credibility to your conference. Our dedicated websites, on-line registration hosting, registration and accounting systems, management of audio visual, lighting and staging components, all use the latest technology, supported by the vast experience and knowledge of our team.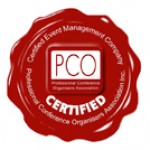 AST Management has gained accreditation as a Certified Event Company (CEC) from the Professional Conference Organisers Association of Australia and New Zealand, and accordingly is authorised to use the CEC seal.
Accreditation as a corporate sector CEC provides clients and industry with an assurance that the event management business they are or could be dealing with is committed to the highest quality event management business practices, consistency and reliability in the delivery of improvement.
For a company to be awarded CEC accreditation, it must have a minimum of one Certified Event Manager (CEM) employed in the business and additionally satisfy the following criteria, audited by an independent certified practicing (CPA) Accountant.